Learning and Resource Center
A centralized team of designers and developers
TriMetrix's Learning and Resource Center brings the expertise, skills, and creative know-how to help our clients effectively reach their audiences.
We work with your project's subject matter experts to make your content and messaging come alive for your audiences through print and digital content and innovative learning solutions. Our team collaborates with clients to develop effective and efficient learning solutions grounded in adult learning theory. This approach magnifies the knowledge, skills, and application of learning for our clients' audiences.
Document and Digital Accessibility
Making your content accessible is not only the right thing to do, but it also makes good business sense —we all benefit from accessibility.
In the U.S., it's also the law, with recent legislation and litigation bringing accessibility to the forefront as a priority. TriMetrix is your trusted partner to ensure all your audiences can access your content and that your agency's good work meets accessibility standards.
Diversity and inclusion expertise to drive change across your initiatives.
You're looking for a strong partner to help you lead your initiatives around inclusivity. TriMetrix can offer your organization subject matter expertise, training support, and product development on your inclusion initiatives including staff development and resources for clients.
Our Work
View samples of our diverse and dynamic resource materials below.
Explore helpful tip sheets from our team of design, accessibility, and e-learning specialists.
https://trimetrix-inc.com/wp-content/uploads/2023/01/bigstock-461698779-website-thumbnail.png
400
450
TriMetrix
https://trimetrix-inc.com/wp-content/uploads/2021/06/TriMetrix-logo-web_logo-large-e1622835192882.png
TriMetrix
2023-01-31 18:08:34
2023-02-01 16:31:15
Accessibility in the Consolidated Appropriations Act of 2023: What You Need to Know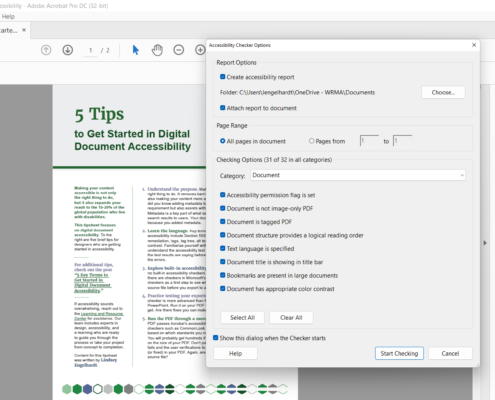 https://trimetrix-inc.com/wp-content/uploads/2022/12/Acrobat-accessibility-checker.png
1016
1916
TriMetrix
https://trimetrix-inc.com/wp-content/uploads/2021/06/TriMetrix-logo-web_logo-large-e1622835192882.png
TriMetrix
2022-12-09 19:25:36
2023-02-01 16:51:13
5 Tips to Get Started in Digital Document Accessibility
Our Services
We pair in-depth understanding of our clients' target audiences with creativity and technical know-how to reach them effectively.
Learning and Meeting Solutions
eLearning
Webinars and virtual meetings
In-person learning
Marketing and Communications Strategy
Communications strategic planning
Branding and design
Marketing and outreach
Graphic design
Web development and design
Accessibility
Copy editing and accessibility
Copy editing
Section 508 compliance
Advanced accessibility
Lindsey Engelhardt, MBA
Senior Graphic Designer
Lindsey Engelhardt brings more than 15 years of design experience across digital and print platforms to our team. Ms. Engelhardt supports mission-driven projects by transforming complex content into formats that are easily digestible, visually pleasing, and accessible. She excels at blending design, technology, and accessibility through deep technical expertise of programs such as Adobe InDesign, Microsoft Word and PowerPoint, and WordPress. Her session at CreativePro Network's international online Design + Accessibility Summit was an Editor's Choice pick.
Additionally, Ms. Engelhardt has several large-scale projects, including website analysis and redesigns, national marketing campaigns, mission/vision development, and sponsorship development of an annual national conference. She thoroughly enjoys collaborating on strategy and creating processes, messaging, and designs that achieve the team's goals.
TriMetrix
Let's partner! Our team is organized and staffed to meet a broad range of learning and training needs. Contact us to learn more or get started.